The Ultimate
Bedroom Fitting Buying Guide!
The bedroom should be a sanctuary and a place to relax, but sometimes it can become untidy, cluttered and soon becomes a room you don't want to spend any time in. If this sounds familiar, not all hope is lost, as an investment in some cleverer furniture and smart bedroom storage can breathe life back into your sleeping sanctuary.

2016 has just started, so now is the perfect time to think about upgrading your bedroom and providing it with a new look for the new year. You may have something in mind - perhaps a gorgeous fitted bedroom, a stunning mirror, a beautiful dressing table or a fantastic wardrobe - or you may simply just be browsing for ideas.

Wherever you are in the buying process, this handy bedroom furniture buying guide is perfect for you - we hope you find something that allows you to fall back in love with your bedroom.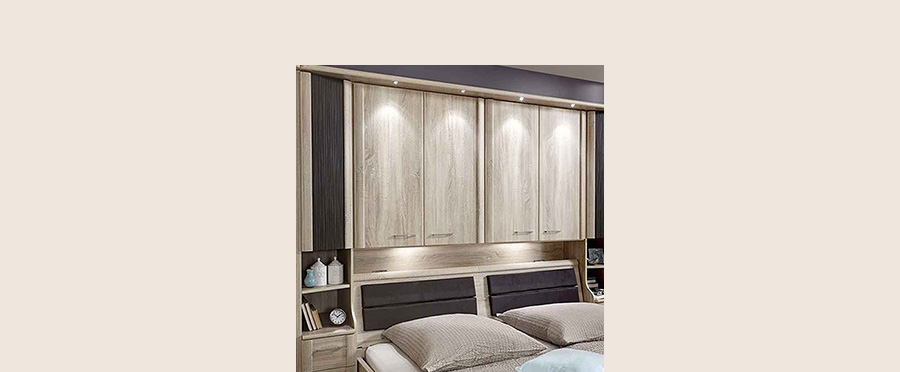 wiemann luxor
If you're looking for a spectacular piece of fitted bedroom furniture the Wiemann Luxor range really is perfect. This specific piece of furniture has absolutely everything you could possibly want & need in your bedroom - a comfort bed with a bedding box that's covered by faux leather pads for extra comfort, there's under bed drawers for storage, a walk in wardrobe accessed by 2 doors (with one being mirrored) and finally to complete the set there is an angled wardrobe that succesfully incorporates shelves into the unit.

The textured oak effect provides a real wood look, with a mocha ripple effect providing a touch of elegance and class to the finished look.

wiemann loft
The Wiemann Loft furniture is ideal if you're looking for some super stylish fitted wardrobes to compliment your rather contemporary bedroom. The great thing about this range is the scope that is available. You can have sliding doors, doors that are mirrored, cut out sections in the doors specifically built to house a flat screen TV & select from a great range of door finishes and colours.

Once you've decided on the stylish appearance of the wardrobes, you'll be pleasantly surprised by what's waiting for you inside - a series of sturdy shelves and a hanging rail with a plethora of room, that is lit by the LED lighting at the top of the unit. The Loft bedroom furniture can certainly go a long way to creating your ideal bedroom.

wiemann eastside
The Weimann Eastiside wardrobe collection is innovative, cool & practical. If you're planning on updating the look of your bedroom, you'll definitely want one of these superb pieces of furniture pressed up against a wall. The Eastside wardrobes perfectly combine functionality and elegance, with the inclusion of plenty of hanging space and integrated drawers.

One of the great things about this wonderful range is the accessories & customisation that can be included with the purchase. We're talking the inclusion of shoe racks, trouser rails, tie rails, baskets and other fantastic storage concepts. The flexibility and innovative style means you can truly create the fitted bedroom furniture you've always dreamed of.

Wiemann Shanghai
So you've almost got the perfect bedroom. You've got a stylish bed and headboard, a super comfy mattress, some gorgeous bedside tables, some ingenious accessories, all that's left is the wardrobe. The Wiemann Shanghai wardrobe range is truly stunning and offers a great selection to choose from. Whether you want swinging or sliding doors, a combination of drawer space and/or hanging space, a choice between one consistent colour across the unit or a mix of fashionable & stunning colours. The inclusion of a Wiemann Shanghai wardrobe to any bedroom will provide a touch of effortless sophistication and a real distinct style that will have people talking & complimenting.
amore dressing table
The Amore dressing table is the perfect addition to any class bedroom & provides a rather sassy yet beautiful storage element to the room. The dressing table incorporates 4 drawers into each pedestal, with a secret drawer hidden in the centre of the unit, that's perfect for hiding away your most valuable jewellery.

This stunning piece is perfect for trying out different pieces of jewellery for the night and fixing up your make up as you look to impress on your big date.

amore mirror
Every one of us strives to look our very best on a daily basis. Whether it be applying make up, picking out that killer outfit, styling your hair perfectly or assessing the improvements to your body following you recent diet efforts - to master your appearance you're going to need a rather wonderful full-length mirror.

This stunning full-height white mirror (with stand) from Amore, would add an air of elegance to any bedroom and provide the perfect frame for those all important morning decisions.

Coelo Gentlemen's Chest
The addition of this Coelo Gentlemen's Chest is a must for any stylish & interior conscious man. This superb piece of furniture has five deep drawers and a cupboard with a natty shelf behind the door.
The unit has room for all the clothing you hold dear as a man - there's space for socks, pants, your Italian loafers, cashmere jumpers, button-down shirts and even your watch collection - once you purchase this you'll be transformed into a much more organised man.

Coelo king size bed
When you first enter a bedroom, you find your eyes being drawn to the focal point of the room - the bed. So with that in mind, you should make a point to have a beautiful bed that you're proud to call your own.
This Coelo king size bed definitely fits the bill on all levels. The bed has a glorious wood finish & comes in a great choice of colour finish - Oyster White, Toasted Almond, Natural Stone or Harbour Grey - so no matter what your current boudoir style, this bed is sure to fit right in & elevate the design to a new level at the same time.
So there you have it, this beautiful bedroom furniture buying guide should give you plenty of ideas on how to reinvigorate your boudoir and make it a peaceful sanctuary once again. Fitted bedrooms really do provide superb storage and are also great to look at, while flat pack wardrobes & flat pack bedroom furniture are also excellent choices to spruce up your bedroom, and give it an appearance you'll be proud to show off.